> Greeting from Chairperson
Greeting from Chairperson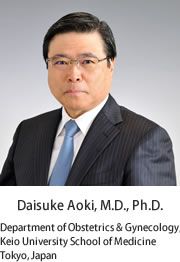 I am honored to have the opportunity to say a few words of greeting as the newly appointed Chairperson of the Japan Society of Gynecologic Oncology (JSGO).
Given our inception as a merging of organizations pertaining to gynecologic tumors, I am committed to further driving our mission of comprehensive engagement and leadership in the field of gynecologic oncology in Japan.
The first order of the day, then, is to implement and publicize our scientific activities. The publication and revision of guidelines for the treatment of malignant neoplasms of the female reproductive system symbolizes our operations and showcases our strengths. JSGO members include specialists in gynecology, pathology, radiology, and clinical oncology, as well as professionals in an array of other relevant occupational categories. We are therefore an ideal forum for the debate of evidence-based, practical courses of action. We intend to further strengthen and improve our guideline development capabilities.
Our second task is to be an organization that promotes the assurance and improvement of the overall quality of gynecologic tumor treatment in Japan. We must not only increase the ranks and maintain the quality of our existing gynecologic oncologists but must also train our young colleagues for the future. We also aim to be a member society of the Japanese Association of Medical Sciences and the Japanese Medical Science Federation, so as to demonstrate the solidity of our structure as a scientific society. Already, we have provided support for the 5th Biennial Meeting of Asian Society of Gynecologic Oncology (ASGO 2017) and the 17th Biennial Meeting of the International Gynecologic Cancer Society (IGCS 2018) as local organizer, working together with the study group Japanese Gynecologic Oncology Group (JGOG) to serve as a comprehensive contact relating to gynecologic neoplasms in Japan. International communication and action through these meetings will continue to be important elements in our nation's contribution to the global community.
Thirdly, I would like to mention partnerships and public awareness. In order for our activities to be effective in the field of gynecologic oncology, we need to work together with the Japan Society of Obstetrics and Gynecology as well as with other organizations including JGOG, the Japanese Society of Clinical Cytology, the Japan Society of Gynecologic and Obstetric Endoscopy and Minimally Invasive Therapy, the Japanese Society for Familial Tumors, the Japan Society of Clinical Oncology, and the Japan Society of Gynecological and Obstetrical Surgery , in addition to international organizations including the Asian Society of Gynecologic Oncology (ASGO), the International Gynecologic Cancer Society (IGCS), the Society of Gynecologic Oncology (SGO), the International Federation of Cervical Pathology and Colposcopy (IFCPC), and the International Federation of Gynecology and Obstetrics (FIGO). We also need to communicate our deliverables more widely to relevant organizations and to the public.
Fourthly, a stable financial base is essential for the operation of JSGO. While much of our income and many of our projects are dependent on our members' yearly dues, a significant fraction of our revenue is generated from scientific conferences. In recent years, many academic societies have come to expect income from such meetings, and I am committed to earnest debate on the degree to which we, as a corporate body, should most appropriately rely on such sources of income.
Thus my vision is for an open, functional, and efficient JSGO. We owe our many accomplishments to the leadership of former chairperson Dr. Nobuo Yaegashi and his predecessors, and I consider it my job to preserve our invaluable footing while striving for further improvement and growth. I truly appreciate the continued feedback and support from our members, and look forward to working with you to achieve even greater success.
August 2018