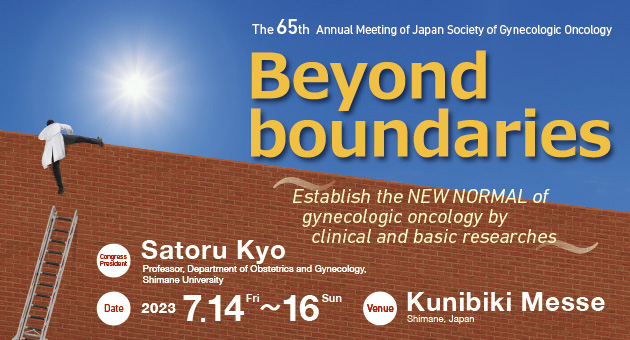 ■Message from Congress President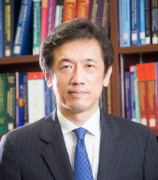 I am Satoru Kyo from Department of Obstetrics and Gynecology, Shimane University Faculty of Medicine. It is a great honor to host the 65th Annual Meeting of Japan Society of Gynecologic Oncology, which will be held in Shimane Prefecture for the first time.
The conference will be held from July 14th (Friday) to July 16th (Sunday), 2023 at Kunibiki Messe (http://www.kunibikimesse.jp/14.html) in Matsue City, Shimane, Japan. As the theme of the conference, we have set "Beyond boundaries – a new clinical normal established by research". The world of gynecologic oncology has seen amazing developed in the last five years. With rapid developments that were unimaginable ten years ago, such as the practical application of cancer genomic medicine, the clinical application of PARP inhibitors and immune checkpoint inhibitors, the practical application of AI, the progress of MIS and alerts to it, etc. For us clinicians, the update of new knowledge has entered a difficult time.
Gynecologic oncology traditionally had certain boundaries, such as radiation vs. surgical therapy for cervical cancer treatment, endoscopic vs. laparotomy, conventional anticancer drugs vs. molecular targeted drugs, etc. The aim of this conference is to break down such boundaries and establish a new clinical normal from a unique perspective that is not bound by preconceived notions. What do you see beyond the border? I made the meeting poster with that thought in mind.
To break down boundaries and establish a new normal in clinical practice, the research by gynecologic oncologists is really essential. Starting with a simple question and dreaming of elucidating the mechanisms of carcinogenesis and developing new treatments should be largely encouraged, especially for young oncologists. The new clinical normal can only be established through such research. We will hold symposia to explore the mechanisms of gynecologic carcinogenesis as well as to practice TR by young researchers. Special lectures were also arranged by Prof. Ie-Ming Shih of John Hopkins Medical Institutions and Dr. Yusuke Nakamura, President of National Institute of Biomedical Innovation, Health and Nutrition. Both professors have continued to challenge the status quo in the field of oncology, and we are inviting them as speakers suitable for "Beyond boundaries".
At the 64th Annual Meeting held in Kurume, Fukuoka prefecture last time, a hybrid method that fused real-world events and the web was introduced in earnest for the first time during the COVID-19 pandemic, and was very well received. In principle, we would like to adopt a hybrid method for this meeting, but the most important thing is mutual exchange between members during the meeting. On top of that, the challenge is how to incorporate the web with realism, and whether this method will evolve further and become the new normal. It is exactly the "Beyond boundaries" of the style of meeting.
There are many hot springs in Shimane Prefecture, especially around the meeting place, and Izumo Taisha and other shrines that appear in Japanese old mythologies. There are also famous sightseeing spots such as Adachi Museum of Art, and the Iwami Ginzan Silver Mine, a World Heritage Site. All the staff will do their best to make the meeting a success and look forward to seeing you all.
■General Information
The 65th Annual Meeting of Japan Society of Gynecologic Oncology
"Beyond boundaries – a new clinical normal established by research"
Congress President: Satoru Kyo, Shimane University
Dates: July 14 (Fri) – 16 (Sun), 2023
Venue: Kunibiki Messe
1-2-1 Gakuenminami, Matsue-shi, Shimane-Ken 690-0826
TEL +81-852-24-1111 / FAX +81-852-22-9219
http://www.kunibikimesse.jp/14.html
■Abstract Submission
The 65th Annual Meeting of Japan Society of Gynecologic Oncology welcomes the submission from overseas.
Submission period: December 14 (Wed), 2022 to February 7 (Tue), 2023
Abstract Submission Guidelines
All abstracts must be submitted in English.
The abstracts body must be maximum 250 words.
The title should be precise. It should be capitalized each initial letter of the major words in the sentence except definite/indefinite articles, short prepositions/conjunctions, or acronyms.
Abstracts should be structured in at least three sections, clearly mentioned such as: Background ⁄ Objectives - Methods - Results (optional) - Conclusions.
First Authors are required to ensure that all co-authors are aware of the content of the abstract and agree to the submission.
First Authors are requested to register for the meeting.
Please download the abstract submission form below.

How to submit: Please send the completed abstract submission form to the organizing secretariat by e-mail.
The following information should be written in the mail.
Mail Title: Abstract submission to 65 JSGO
Mail body: Your name, affiliation and contact information

Contact of the organizing secretariat: jsgo65@macc.jp
■Registration